++++++++ Information ++++++++

Hakone is a natural park created by volcanos.
Due to a local incre in volanic activity access
to some area of Hakone has been rectructed.

Our ryokan is located far away from the volcano
and it is not affected by the recent activity.
I looking forward to seeing you.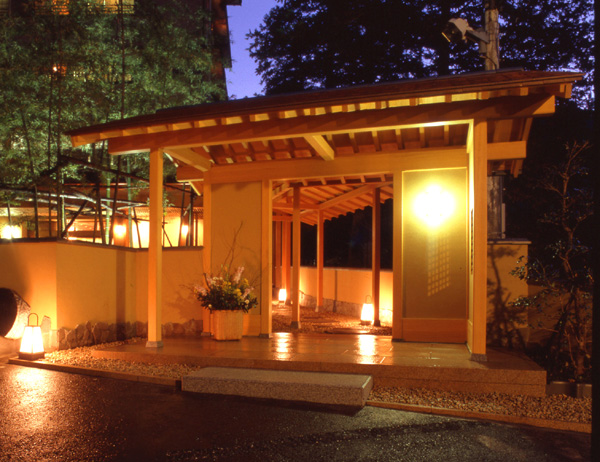 Thank you for dropping by our homepage.
Our hotel is built on the tallest hill of the "Hakone Miyanoshita-onsen".
It is just a step away from Tokyo.
Our hotel values Japanese customs.

Please try Japanese "OMOTENASHI"!
"Tatami" mat"is laid out all over our ryokan.
Change into "Yukata and "Tabi"
and treat yourself to the finest hospitality.
If you want to experience Japanese traditions,
our ryokan is the best place to stay.
Take off your shoes at the entrance and
let your stay begin with the touch of "Tatami" mat under you.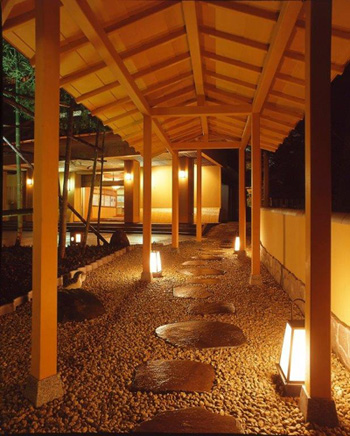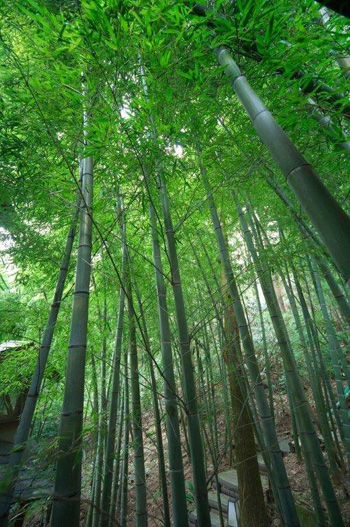 From the moment you arrive,
seasonal flowers or
Japanese classical decorations
welcome you.
An array of incense is lit everyday.
The delicate scent softens your mind
and wraps you up,
inviting you into another world.


==============================================
"Shiki-no-Yuzashiki".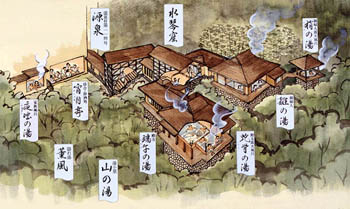 ".
There are four beautiful seasons in Japan.
Spring, Summer, Autumn, Winter.
Come to our ryokan to heal your everyday fatigue.
Let the exquisite beauty of the four season
take you on an ultimate journey.
In it lies the beauty of Japanese tradition
and culture and from this, we have named our hot spring

Shiki-No ・・ Feel four seasons
Yu ・・ Hot spring
Zashiki ・・ Traditional Japanese culture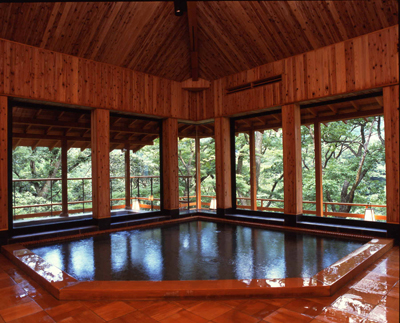 There are seven hot spring baths
collectively called "Shiki-no-Yuzashiki".

The main indoor bath for men is
"Tango-no-yu"
and "Jyakotsu-no-yu" is open air bath.
The main indoor bath for women is
"Hina-no-yu"
and "Kozue-no-yu" is open air bath.
The hint of fragrance from the hot spring water
and hinoki tree wraps you up.

There are three places of open-air private bath.
The first one is, the private bath for family use
in front of the fourth floor elevator.
It is called "Yobanashi-no-yu".
You can use this bath anytime,
if the door is opened or unlocked.
Forget the passing of time
and indulge yourself in the luxury of this experience
while soaking in the bath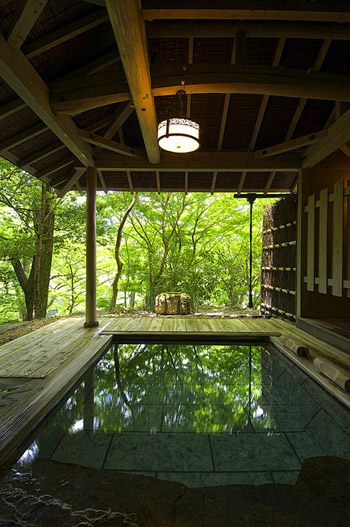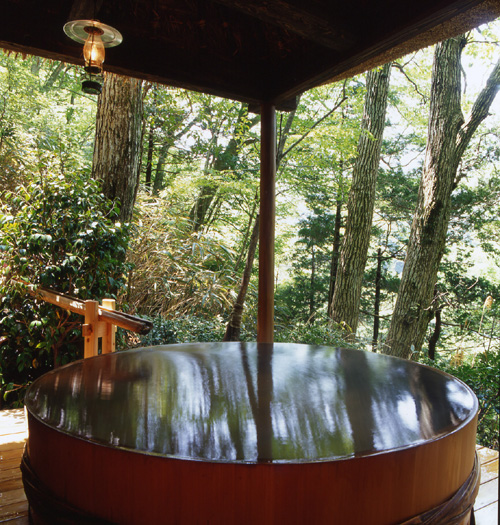 We can take your reservation
for 30 minutes each bath.
Let us know your preferred time for using the bath.
There is a private open-air bath on the 1st and 2nd floor.
There aren't any bath amenities so take what you need from your room.
You are surrounded by brilliant greens while soaking in bath.

On the 1st floor we have the "Yugoya Yamanoyu".
It is a very tasteful bath with the hot spring water
naturally and constantly flowing.
There is a thatched roof in a mountain -like hut,
with a barrel-like tub.
You can see Hakone Tozan Railway below you.






We have two pipelines as source of hot spring,
so the hot spring has an ample supply of water.
You can take a bath,
till your hearts content.
While you are invited by the dim smell of the hot spring
through the roofed passage connecting buildings
of the colonnade amidst nature,
indulge yourself in a luxurious time.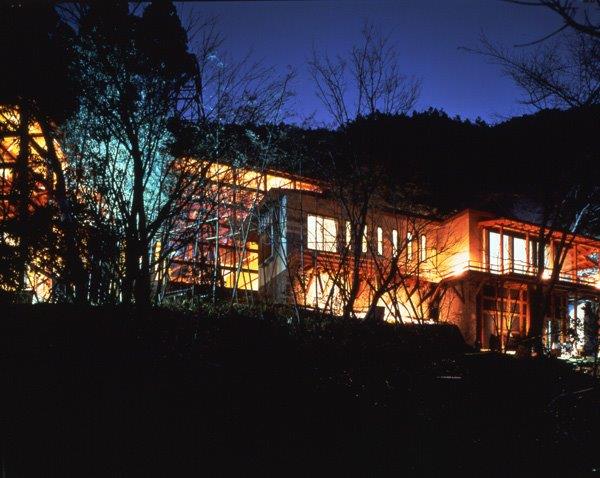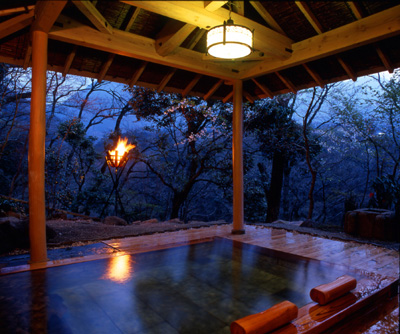 On the 2nd floor we have the "Kakureyu Kunpu".
The frame and the wooden pillow
is made of hinoki wood
and the bathtub uses Izu stone.
Indulge yourself with the sun shinnig in the afternoon,
with a lantern fire at night and with birdsongs in the morning.
This open air bath has been used on TV commercials
promoting the scenic beauty of Hakone..

==============================================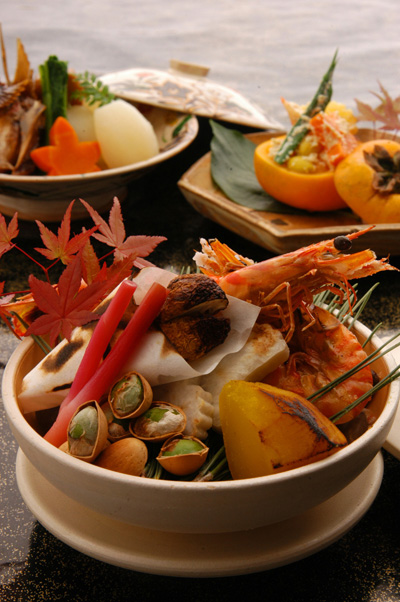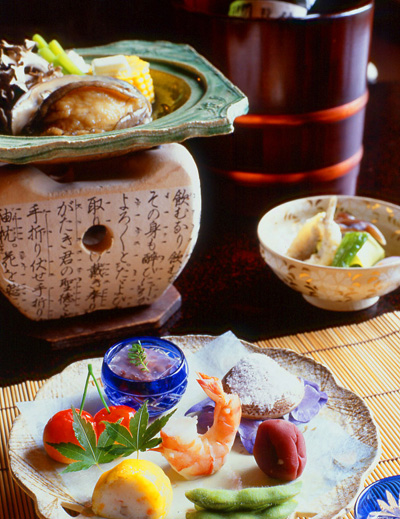 We prepar your meal in your room.
The attendant serves a dish to your room one by one.

Real kaiseki cuisine serves seasonal food.
Based on sea food,
the savory dinner course is a treat both to the eyes and the palate.
We prepare the dishes in a way to let you savor the flavor itself.
Our dinner recommendation is
grilled fresh abalone served on a special plate.
Guaranteed to please your taste.

Dinner Menu(EX)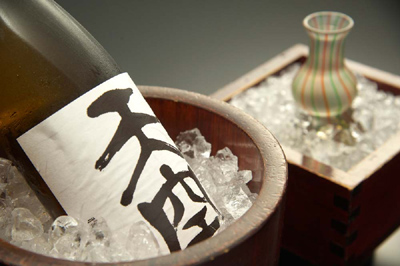 Our Ryokan proudly presents you
with "天空 Tenku".
A Japanese sake, brewed carefully and slowly.
We also have an array of
jun-mai sake (organic sake),
shochu and wine.





Start off your day with a wholesome
Japanese style breakfast.
We are very proud to serve you
our special homemade "Yu-dofu"..

Breakfast Menu(EX)

==============================================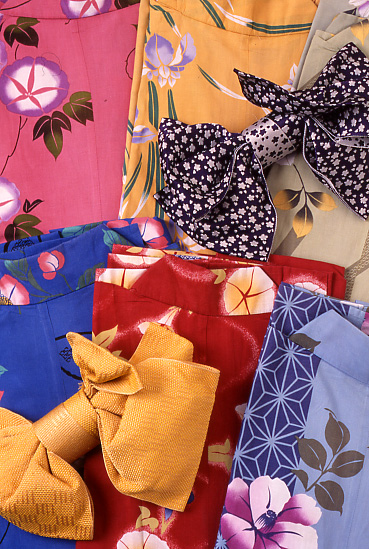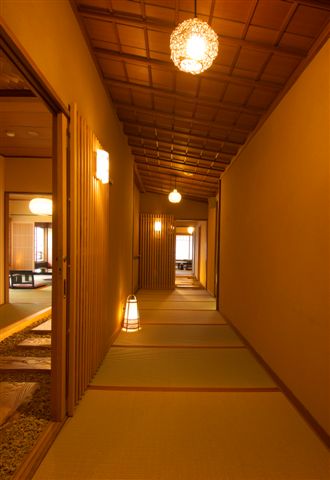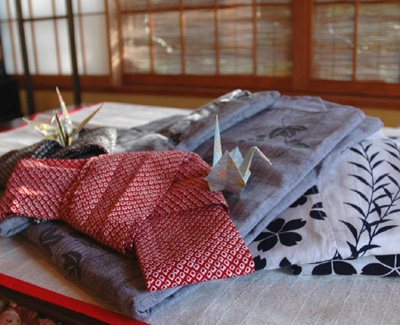 In your room,
your room attendant serves green tea,
Japanese-style confectionary and a warm hand towel.
The attendant explains our ryokan's facilities
and instructs you on how to wear "Yukata".

Our yukata expert designed the Yukata.
One Yukata is for relaxing and the other Yukata is for sleeping.
It is very easy to wear even for a first timer.

The Yukata for sleeping doesn't tighten around your body,
letting you have a good nights sleep.
You can wake up with a refreshed feeling.
Inside the ryokan, change into
"Yukata" and "Tabi",
and make yourself at home.".


==============================================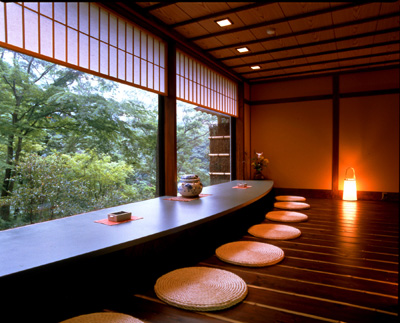 On your way to the hot spring, there is a relaxation room
"Yoi-zuki-tei",
Please use this room when waiting for each other.
You can spend a leisurely time Japanese style,
while looking at the beauty of bamboo trees on site.

We serve our original blended tea.
We are stocked with a variety of Japanese Sake
and draft beer which can also be delivered to your room.

You can have homemade noodle soup from
10:00pm to 11:30 (closes at midnight).

Expenses can be charged to your room.

Yakuzen Yasou-cha "SARARI" tea
has a refreshing taste and the aroma deepens
as you gradually brew it.
Steam it in a tea pot and enjoy the deep taste.


==============================================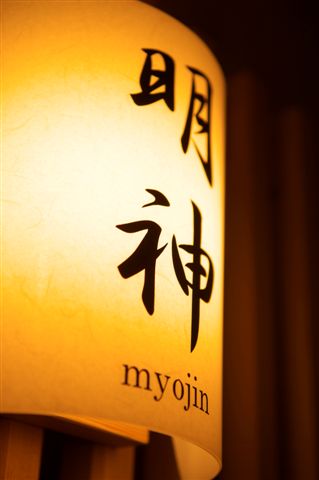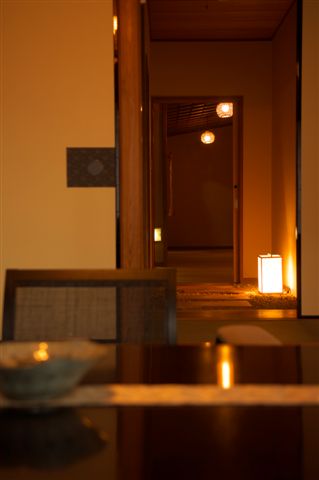 Our ryokan has 20 rooms in total..
All rooms are arranged tastefully letting
you enjoy the spacious room arrangement.

Room types: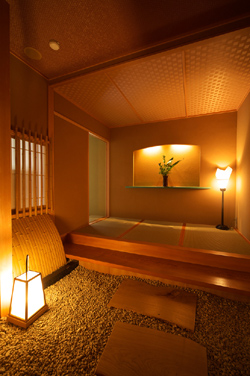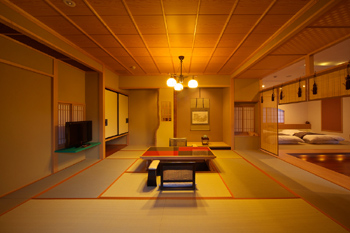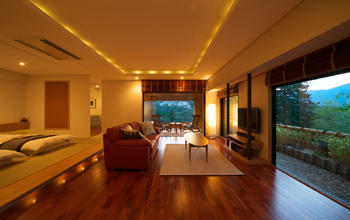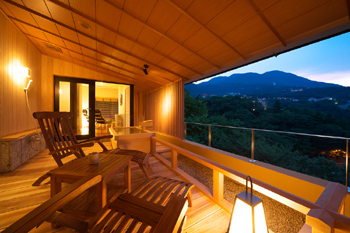 Luxury Suite "楓(kaede)" is 1 room.
The outdoor bath overlooks beautiful mountains.
Let your mind drift away
from the daily hustles of life.
Pamper yourself to the greatest experience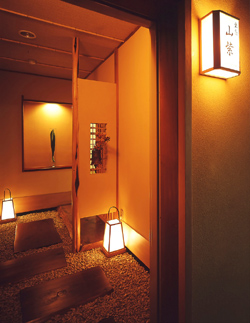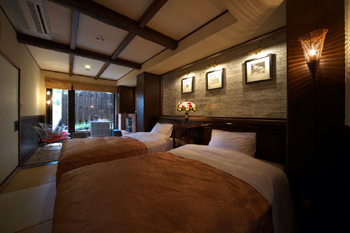 There are 4 rooms with open-air bath,
called "坐忘" (Zabou).

Why don't you let your body and
soul forget the passage of time,
while indulging yourself in the open-air bath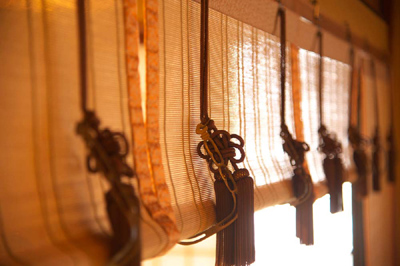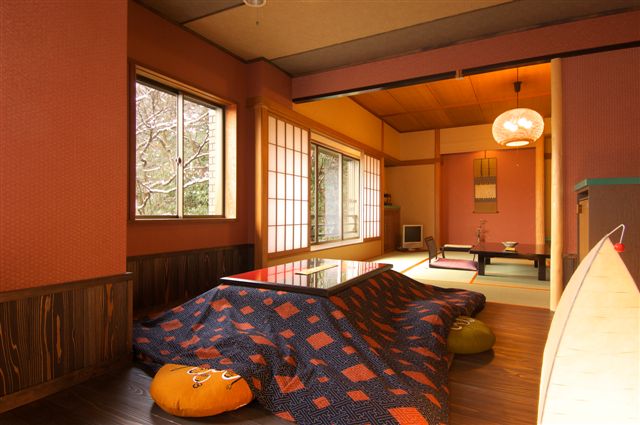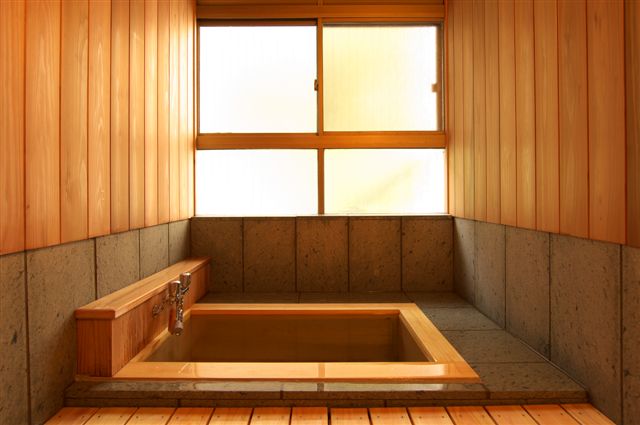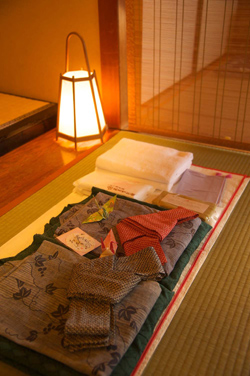 There are 10 Standard Japanese-style rooms
(hot spring with bath) .
It is standard Japanese-style room
with the good old elements
of traditional Japanese life
by the layout or the atmosphere.

There are 3 Royal suites
(one room is hot spring with no bath).
The wood carved "ranma",
a wickerwork ceiling
and the view from the room is great, too.
The room itself will keep you entertained.

There are 2 Special rooms
(hot spring with bath)
Having a corridor and a rock garden
for exclusive use of the room,
you can get ready to relax
and have an appetizing meal in another room.


==============================================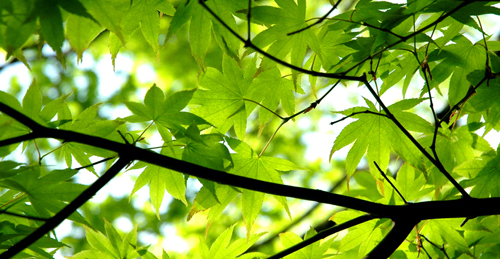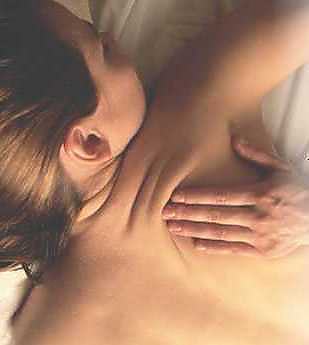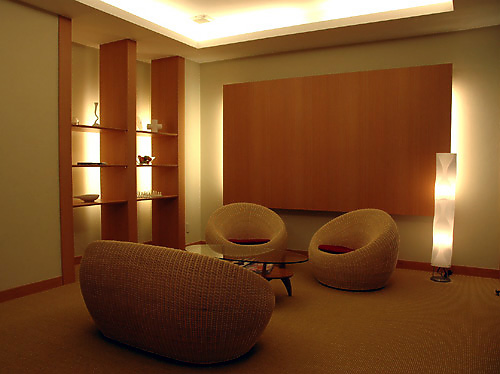 "Hortansia Spa"
Counselling is done by an expert on face and body.
The aesthetician checks your physical condition
and your mental state of the day.
There are 15 kinds of essential oil to choose from.
We have a short course and a long course
depending on your need guaranteed to relax your mind and body.
Detox your body and let the buildup of everyday fatigue go.


Souvenir shop"Hanaburumai"

Drop by our souvenir shop for a memory of your trip.
We have homemade plum liquor and succulent pickled plum.

==============================================
■ Transportation ■





It is transportation・・・

From Tokyo.
It takes 40 minutes from Tokyo station
to Odawara station by Shinkansen Kodama
Take the Hakone Tozan railway
from Odawara station to last stop Hakone-yumoto station
It takes about 20 minutes.
Change to HakoneTozan railway
at Hakone-Yumoto station for Miyanoshita Station.
It takes 25 minutes
from Hakone-Yumoto station to Miyanoshita Station.

Please call us when you arrive at Miyanoshita station
We will pick you up at Miyanoshita station
in 5 minutes.
Our ryokan phone number is
+81-460-82-4341.







==============================================

■ Accommodations ■
(One room/ night for 2 people occupancy)

One person Weekday rates: 24,990-45,510 yen
One person saturday and night before
public holliday rates: 27,150-47,670 yen
(Rates include breakfast, dinner and tax)

Check-in: 15:00
Check-out: 11:00

==============================================
◆"Hanaikada": Tea lounge.





Accessible in Wi-Fi of transmission rate 300Mbps(Max)

==============================================
◆Mt. Fuji・・・                        




On a clear day, it's a great place to see Mt. Fuji

from the mountain where our ryokan is built on!!

Enjoy teh majestic view of Mt.Fuji

from the large monitor at our lounge.

Please click on channel 11of your room TV.
==============================================





〜〜 Please Make reservation from hear  〜

==============================================

「Shikinoyuzashiki」Musashino-Bekkan

ADD:425-1 Miyanoshita Hakone-machi Kanagaw-ken 250-0404 Japan

Contact us・・・・・・

TEL:+81-460-82-4341
FAX:+81-460-82-3615
Mail: info@musasino.net